The topic of popular color gets great public attention every year. Recently, Pantone, the global color authority, announced the 2021 fashion color! The popular colors in 2021 are ultimate gray and illuminating. These two independent colors highlight how different elements support each other, reflecting the message that Pantone 2012 color wants to convey to you: sustained and exciting strength and hope. Coincidentally, B&D industrial screw air compressor has these two popular colors, showing that industrial design is not always dull and boring. Because of this popular fashion color, B&D industrial screw air compressor becomes the most fashionable compressed air equipment.
On December 9th, Pantone announced that its 2021 Colors of the Year are ultimate gray and illuminating, which were chosen for their warmth and dependability. Illuminating is a cheerful color, which highlights vitality and makes people feel more clear. Ultimate gray, on the other hand, is the symbol of faithfulness and reliability. It has withstood the test of time and gives people a sense of calmness and perseverance. They are just in line with the service concept of the B&D industrial screw air compressor. B&D compressed air equipment makes industrial products no longer stagnant and promises to provide the best quality products and user experience.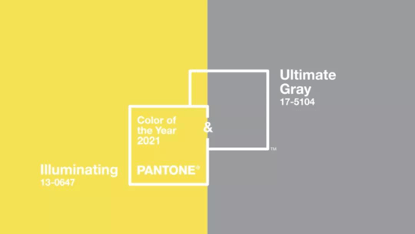 So what's the use of B&D industrial screw air compressor with a fashionable appearance? Let's learn about it.
What is an industrial screw air compressor?
Industrial screw air Compressor is divided into single screw air compressor and twin-screw air compressor. It adopts a high-efficiency belt wheel drive to drive the main engine to rotate for air compression. The compressed air in the main engine is cooled by oil injection. The air and oil mixture discharged from the main engine are separated through coarse and fine separation to separate the oil in the compressed air and finally get clean compressed air. The cooler is used to cool compressed air and oil. It has excellent reliability, low vibration, low noise, easy operation, less vulnerable parts, and high operation efficiency.
Representative of illuminating: EPM series of B&D industrial screw air compressor
EPM series of B&D industrial screw air compressor has power covering 7.5-250kw and reliable quality. It has been listed in the recommended catalog of energy-saving products of the Ministry of industry and information technology of China.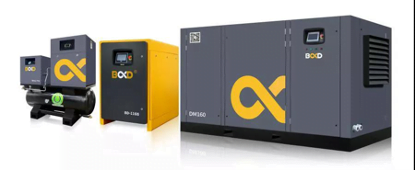 Features:
1. Durable: Front Mesh filters the air before coming into the compressor, making good protection for the air-end and the compressor is durable.
2. One-piece air end & motor: Permanent magnet motor uses neodymium boron material and won't lose magnetism until 120℃. Stator coil is more durable because it is wrapped by corona resistant enameled wire. And PM motor is improved efficiency by 9%, surpassing asynchronous motor, and designed for 10-years reliable operation.
3. High transmission rate: Air end connect with PM motor by one shaft without coupling or bearing. The transmission rate reaches 100%. If it works with the inverter, energy efficiency is improved by as much as 6%.
4. Variable Speed Drive: Variable speed drive can control the motor's speed and decrease start current, making operation quietly and smoothly. The inverter can save up to 35% on energy costs.
5. Intelligent Controller: PLC controller helps you properly maintain the air compressor. React automatically to key parameters to reduce unexpected downtime.
Representative of ultimate gray: B&D oil-free industrial screw air compressor
B&D oil-free industrial screw air compressor is lubricated with pure water of drinking water standard. There is no oil involved in the whole compression process. It can provide 100% high-quality oil-free air, which is the preferred choice for the industry that needs high-quality compressed air.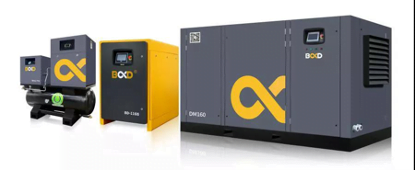 B&D oil-free industrial screw air compressor has incomparable advantages in gas quality, energy saving, easy maintenance, and reliability. This compressed air equipment is widely used in food and beverage, medicine, precision manufacturing, instrumentation, fuel cells, microelectronics, biology, and other industries with high gas demand.
B&D Air Compressor is a professional screw air compressor manufacturer. EPM Series, LPM Series, PM-Ⅱ Series, new trend LS Series are widely applied in manufacturing industries like textile, glass, cement, electronics (SMT), food process, hardware fabrication, etc. We are committed to providing a high-quality screw air compressor. We will be your most reliable partner.